Keeping wild birds in your backyard is a great way to enjoy nature without having to venture too far. One of the best ways to attract them is by providing them with a bird bath fountain.
These can be used as both functional and decorative pieces, bringing life and beauty to your outdoor space. Bird baths are also essential for keeping our feathered friends healthy and hydrated.
When choosing the best bird bath fountain for your garden, there are several factors to consider.
The size and shape of the basin need to be appropriate for the type of birds you want to attract, as well as the environment it will be placed in.
You also have to take into account any additional features that come with the fountain, such as a pump and misting spray.
In this guide, we will review some of the best bird bath fountains on the market to help you find one that suits your needs. We'll discuss their features and benefits, as well as any potential drawbacks so you can determine which is the best for your backyard.
List Of 10 Best Bird Bath Fountains
Last update on 2023-11-28  / Commissions Earned / Images from Amazon Product Advertising API
1. VIVOHOME Polyresin Antique Outdoor Green Garden Bird Bath
The VIVOHOME comes as a combo set, with both a bird bath and a solar-powered fountain included. This means that you get two products in one—a bird bath for bathing birds, as well as a decorative fountain that adds visual appeal to your outdoor space.
Plus, the price point is very reasonable, making it an excellent value for money.
The VIVOHOME is made of polyresin, which makes it resistant to damage from UV rays and inclement weather conditions.
Plus, the material is lightweight yet sturdy enough to withstand heavy use without breaking down or cracking over time.
Additionally, the green finish gives the product an antique look that will complement any outdoor décor style.
As mentioned before, this product is made of lightweight polyresin material which makes it easy to move around if needed. It has a shallow basin design so even kids can easily fill up the water without any help from adults.
Additionally, it's also easy to clean since it doesn't require any tools or cleaning supplies—just some warm water and soap will do!
The VIVOHOME also comes with a solar-powered fountain feature which provides added visual interest in your garden or backyard area.
The solar panel on top of the fountain collects energy during the day and stores it so it can be used at night when you want to turn on the light show feature (which creates several beautiful water patterns).
Not only does this provide interesting visuals but also helps attract birds and other wildlife into your yard!
As mentioned earlier, this product comes with several different water patterns that create a mesmerizing light show in your outdoor space at night—all powered by solar energy!
These patterns range from bubbling streams of water cascading down from above to gentle ripples that create calming sounds as they hit against each other in midair.
Not only are these visually appealing but they can also provide relaxation after a long day at work or school!
Last update on 2023-11-27  / Commissions Earned / Images from Amazon Product Advertising API
2. Alpine Corporation 35″ Tall Outdoor 3-Tiered Pedestal Water Fountain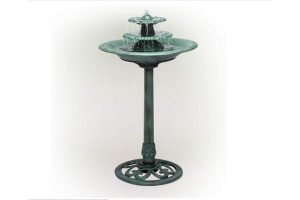 The Alpine Corporation 35″ Outdoor 3-Tiered Pedestal Water Fountain and Birdbath is sure to turn heads with its eye-catching design.
It features a three-tiered pedestal topped with an intricately designed bowl featuring graceful curves and detailed accents that will instantly add visual interest to your outdoor area.
The water cascades down from the top tier into the lower ones, creating an enchanting sound that will transport you to nature's own serenity.
It also comes with a pump so you can keep the water moving, making it perfect for attracting birds and other wildlife.
This birdbath has been designed with shallow edges that make it easy for birds to access the water without having to dive in too deeply.
This makes it ideal for smaller birds who may not be able to reach deeper depths of water. Additionally, its shallowness allows for larger birds like ducks to come in for a quick drink before taking off again, making it perfect for all kinds of wildlife visitors.
The Alpine Corporation 35″ Birdbath looks as good as it performs thanks to its beautiful design features.
Not only does it have an intricate bowl with gracefully curved edges, but it also boasts detailed accents around its base that give it an even more elegant look.
It comes in two colors – green and gray – so you can choose one that best suits your outdoor decor style.
Plus, its neutral color palette ensures that this birdbath will fit seamlessly into any garden or patio area without clashing with other elements of your outdoor space.
Last update on 2023-11-27  / Commissions Earned / Images from Amazon Product Advertising API
3. Hanizi 12 Inches Deck Mounted Bird Bath
The Hanizi Bird Bath Bowl is made of lightweight plastic but still sturdy enough to support the weight of its contents. The bowl detaches from the steel ring that allows it to clamp onto decks, railings, and other surfaces securely.
This makes it easy to remove for cleaning or filling as needed. The bowl also features an adjustable angle so that you can customize it according to your preferences.
This bird bath bowl is incredibly easy to install; all you need is a flat surface! To attach the bowl simply clamp the steel ring onto your desired surface and then adjust the angle of the bowl itself as desired.
Filling up the bowl can also be done in minutes; just detach it from its base before adding water from any source (manual or automatic).
Since there's no heating element built into this model, you'll need to be sure to change out the water regularly in colder months since it will freeze over time.
The Hanizi Bird Bath Bowl has been designed with safety in mind too! It has been tested against strong winds and heavy rain without budging an inch thanks to its secure base clamping system.
Additionally, since this model doesn't include a heating element there's no risk of burning yourself while cleaning or filling up the bowl – which is important if young children are around!
Last update on 2023-11-27  / Commissions Earned / Images from Amazon Product Advertising API
4. API 4WW Water Wiggler Water Agitator for Bird Baths
The API 4WW Water Wiggler is an agitator specifically designed to create ripples in bird baths. It operates silently on two D-cell batteries (not included), so there's no wiring or plumbing required.
The agitator has been designed with durability in mind, and it is made from high-grade materials that are resistant to corrosion and rusting.
The agitator works by creating ripples in the water that can help attract birds, as well as deter mosquitoes from breeding in the bird bath.
It has been designed to operate continuously for up to two months without needing any additional batteries or power source.
Additionally, this agitator is suitable for use even during winter months when the bird bath is heated, making it ideal for year-round use.
The API 4WW Water Wiggler boasts several features that make it an attractive choice for anyone looking to attract more birds to their garden or yard.
The most notable feature is its silent operation; unlike other models on the market, this one does not produce any noise while running, meaning you won't have to worry about disturbing your neighbors while enjoying a peaceful morning watching your feathered friends flutter around the water.
Additionally, its durability means that it will last longer than other models on the market—no need to shell out money every few months!
Finally, its ability to work with heated bird baths makes it ideal for year-round use—no matter what time of year you're looking to attract birds into your garden or yard, this agitator can help you do so without having to worry about power requirements or maintenance issues.
5. MUMTOP 26 Inch Height Glass Birdbath Birdfeeder
The MUMTOP bird bath is made of handmade glass, making it both durable and attractive. Its stylish blue color will add beauty to any outdoor space, while its four-pronged bottom ensures that it won't easily tip over in windy conditions.
The metal stake makes it easy to install into the ground, so you can enjoy your new bird bath in no time!
In addition to being an attractive piece for your garden, this bird bath also serves an important purpose. By providing birds with water and food, you can help ensure their health during the summer months when resources are scarce.
The metal stake allows you to effortlessly move the birdbath from one area of your garden or yard to another if necessary.
Maintaining the MUMTOP bird bath is surprisingly simple – just rinse it off occasionally with clean water and empty out any standing water after heavy rains.
This will help keep bacteria and algae from forming on the surface of the glass bowl. Additionally, you should check the metal stake periodically for rust or corrosion and replace it if necessary.
Last update on 2023-11-28  / Commissions Earned / Images from Amazon Product Advertising API
6. MUMTOP 11 inch Hanging Bird Bath Glass Bird Bath
Let's start with the obvious – the stunning design of the MUMTOP 11 inch Hanging Bird Bath. The glass body is decorated with a gorgeous peacock pattern that will add an extra splash of color to your garden or backyard.
This bird bath is sure to be a conversation starter among friends and family, who will marvel at its beauty during gatherings or simply appreciate it from afar during peaceful moments alone.
Not only does the MUMTOP 11 inch Hanging Bird Bath look good, but it also performs well too! The bird bath bowl is made out of high-quality glass which ensures that it won't easily break or crack even when exposed to extreme temperatures or weather conditions.
You can rest assured knowing that this bird bath will remain in tip-top condition season after season, reliably providing you with many years of service before needing any kind of repair or replacement.
When it comes time to clean up after your feathered friends have finished their baths, you don't need to worry about having to lug around heavy buckets of water – just take out your hose!
The MUMTOP 11 inch Hanging Bird Bath is designed to be easy to clean so all you need is a quick spray down with water and a light scrubbing if necessary.
It's as simple as that! You can also remove the entire bowl from its base for more thorough cleaning if needed.
Last update on 2023-11-27  / Commissions Earned / Images from Amazon Product Advertising API
7. MUMTOP Glass Bird Bath, Garden Outdoor Birdbaths Birdfeeder
The MUMTOP Glass Bird Bath is designed with four-pronged bottom which allows it to hold enough water or wild bird food.
The bowl-shaped design of the sunflower birdbath makes it incredibly easy to clean and maintain, so you won't have to worry about replacing it anytime soon.
Additionally, its bright yellow color will bring a vibrant touch of beauty to your garden or backyard.
The MUMTOP Glass Bird Bath also comes with a metal stake for easy installation in the ground. Simply stick the stake into the soil and you're ready to use the birdbath.
This makes it incredibly easy and convenient for anyone who wants to quickly set up their own outdoor oasis. Plus, its stable base ensures that it won't be easily toppled over by wind or other elements.
Finally, this product is very affordable compared to other similar products on the market. This means that you don't have to break the bank just to get an attractive outdoor bird bath that will last for years.
With its stunning design and lightweight construction, this product is sure to be an excellent addition for any home or garden!
Last update on 2023-11-28  / Commissions Earned / Images from Amazon Product Advertising API
8. Monarch Abode 17064 Pure Copper Hammered Bird Bath
This bird bath and feeder are constructed from pure copper, making it extremely durable, as well as aesthetically pleasing. The hammered pattern gives it an elegant touch, while the iron stand adds an industrial feel.
The construction materials make it resistant to rust and corrosion, ensuring that it will stay in your backyard for many years to come.
The Monarch Abode bird bath can be used both as a decorative piece and as a functional bird feeder or bath. It comes with two removable trays which can be used to fill up the bowl with food or water.
You can also use them to catch seeds from dropped by birds, which makes cleaning up after them much easier. The 34-inch iron stand provides stability, so you don't have to worry about it tipping over when birds land on it or perch on its edges.
This bird bath and feeder has a unique design that will enhance any garden setting or outdoor area.
Its hammered copper finish gives it an antique feel while also adding a touch of elegance that complements any type of decor theme or color palette. The iron stand ensures that your new centerpiece stands tall and proud in your backyard.
Whether you are shopping for yourself or someone else, this product makes the perfect gift for any occasion! It is sure to bring delight to anyone who admires nature and wants to attract wildlife into their yards.
Plus, its long-lasting construction ensures that this special present will be enjoyed by its recipient for many years!
This product comes with easy-to-follow instructions so you can assemble it without any hassle! All parts fit together easily without requiring any tools, so you can have your new bird bath set up in no time!
Last update on 2023-11-27  / Commissions Earned / Images from Amazon Product Advertising API
9. VINGLI Pedestal Bird Bath 28 Inch Antique Copper Resin Birdbaths
The VINGLI Pedestal Bird Bath has a unique design that features an antique copper finish and an intricate flower pattern on the base.
The bowl itself is 28 inches in diameter and made of durable resin, so it can withstand changes in temperature without cracking or deteriorating.
The base is also sturdy and stable, so you won't need to worry about it toppling over during strong winds or storms.
In addition, the birdbath comes with two removable trays which are ideal for adding food or water to encourage more activity from birds in your area.
This is especially useful if you have a specific type of bird you want to attract. You can even use the trays as planters! The trays are simple to remove and clean, making maintenance a breeze.
Using the VINGLI Pedestal Bird Bath couldn't be easier – all you need to do is set up the stand and fill up the bowl with water or food (depending on what type of birds you want to attract).
It takes less than 10 minutes to assemble the base and bowl together, no tools required! Once assembled, it's easy to move around your garden if needed; just make sure that it stays in direct sunlight for the best results.
Last update on 2023-11-28  / Commissions Earned / Images from Amazon Product Advertising API
10. Bloem 270-908 Promo Bird Bath with Pedestalk
The Bloem 270-908 Promo Bird Bath with Pedestal 25″ x 17" features a gradually sloped water basin with a maximum depth of 2 inches in the center for easy access by birds. The basin measures 17 inches wide at its top and 8 inches wide at its bottom.
The total height is 25 inches. Constructed of high-quality durable plastic resin, it is maintenance-free and easy to clean. Plus, it is UV protected for fade resistance.
This bird bath comes in two pieces—the fill base pedestal and the top bowl portion—which makes installation super easy.
To start, simply fill the base pedestal with sand or pebble rock from the top opening for added stability. Then position the bowl on top of the base and you are ready to go!
The Bloem 270-908 Promo Bird Bath offers an attractive design while providing birds with a reliable spot to get their daily water needs met.
Furthermore, its high-quality materials make it durable enough to withstand all weather conditions yet lightweight enough that it can be moved around easily if needed. All in all, this birdbath provides great value for your money!
Last update on 2023-11-28  / Commissions Earned / Images from Amazon Product Advertising API
Conclusion
Bird baths come in a variety of shapes and sizes, but the best ones for your garden are those that offer water movement. A bubbling bird bath is not only attractive to birds, it also helps keep the water clean.
If you don't have a lot of space in your garden, consider adding a small fountain to a corner or tucked away spot. Not all fountains are created equal, so be sure to choose one that has been designed specifically for birds.
VIVOHOME Polyresin Antique Bird Bath is one of the best bird bath fountains that you can find in the market today. With its unique design and durable material, this VIVOHOME product will make your garden look even more beautiful. Additionally, its adjustable height feature makes it easier for birds to have access to clean water.
FQAs
Can you put a fountain in a bird bath?
If you're the type of person who loves to watch birds in their natural habitat, then a bird bath fountain is a perfect addition to your backyard. Fountains come in all shapes and sizes and can easily be added to an existing bird bath. The sound of moving water will attract both larger and smaller birds, bringing harmony and beauty to your garden. Plus, the trickling fountain water helps keep the bath cleaner as it filters out impurities like dirt, dust, feathers, and other debris. Putting up a bird bath fountain is a great way for nature lovers to create an ideal habitat for watching birds that can last for years!
What color bird bath attracts the most birds?
Bird baths come in a variety of colors, but to attract the most birds one should look for bright shades such as blues, yellows, and greens. These colors will create an inviting contrast in its environment and are both more aesthetically pleasing and attention-grabbing for the birds. Additionally, the amount of water you allow to fill the bath will dictate just how many birds are attracted to it; young birds tend to prefer more shallow water since their fledgling wings cannot handle deeper depths. The reflection produced by the bird bath's water could also bring more birds than a dark-colored bird bath. Whether you choose a bright or subtle tone, placing it in an area that is visible and open with nearby plant growth can only help draw avian species near your home.
Do birds prefer bird bath or fountains?
Bird baths and fountains offer birds a cool, refreshing, and renewable water source. As it's well known, one of the main components of a bird's health is access to clean water for drinking and bathing. With that in mind, it's no surprise that both bird baths and fountains can attract these feathered visitors. Whether they choose a birdbath or fountain typically depends on their personal preference and what's available. Fountains often provide more movement, while Birdbaths tend to be simpler to perch on. Ultimately, if you have either one at your home or garden, you are in an excellent position to see birds frequent your area and enjoy the water source you provide them.
Should I put rocks in my birdbath?
Copper pennies are often said to be a reliable, natural way to keep bird baths clean. According to some experts, copper pennies can help prevent the growth of algal and bacterial build-up in bird baths. It's believed that copper has natural disinfectant properties, which is why copper coins were traditionally used on ships to help protect against disease-causing bacteria. To use copper coins in your bird bath, simply add a few pennies per gallon of water. The coins may need to be replaced every couple of months due to wear and tear from the circulating water. Ultimately, many people find that adding copper pennies to their bird bath is an effective solution for keeping it cleaner longer.