The male cardinal is a strikingly beautiful bird found in North America. These birds are known for their bright red feathers, which make them easy to spot in the wild. Cardinals are also interesting creatures from a behavioral standpoint, and there is much to learn about them. In this article, we will take an in-depth look at the male cardinal, including facts about their appearance, behavior, and more.
Male Cardinal Relationship with humans
The relationship between male cardinals and humans is largely positive as these birds often become quite familiar with people. They are often found visiting backyard bird feeders, especially during the winter months when food sources are scarce. Cardinals may also be seen hopping around yards and gardens, exploring for insects or seeds that have been left behind. In addition to providing food for the birds, some people provide shelter in the form of birdhouses and nesting boxes for cardinals.
Male cardinals can often be seen protecting their territories, which may include a person's backyard or garden. They are very aggressive when it comes to defending their habitat and will chase away any intruders they see as a threat, including other birds, cats, and even humans. As a result, they are often seen as symbols of strength and courage.
Although male cardinals can become somewhat aggressive during mating season or when defending their territory, they generally have quite a friendly relationship with humans. They often come to know the people who feed them and will approach them for food or attention. Male cardinals can also be quite vocal and may sing their cheerful songs in the presence of people, providing a pleasant soundtrack to any outdoor activity.
Overall, the relationship between male cardinals and humans is positive and mutually beneficial. People often enjoy watching these birds interact with their environment, while the birds benefit from food and shelter provided by people. This connection between humans and cardinals is a great example of how nature and humanity can co-exist in harmony.
Related Articles: Everything You Need To Know About Baby Cardinals
Male Cardinal has a large bird range
It can be found in a wide variety of woodlands, suburbs and other habitats. It is also seen in open grassland areas with shrubs and trees. The male cardinal is bright red with a crest on its head. The female cardinals are a duller shade of brown. Both sexes have black faces and reddish-orange bills.
Cardinals are early nesters
They will begin building nests as early as February in some regions. They prefer to build their nests in thick shrubs or small trees with dense branches and foliage, usually close to the ground. The nest is made from twigs, grasses, moss, rootlets, bark strips, feathers, and other materials outside their bodies. Cardinals generally use the same nest each breeding season and may even use it for several years. They become very attached to the nest site, often returning to repair or reinforce it during the nesting season. After laying eggs, female cardinals will sit on the clutch until they hatch and then care for the chicks until they are ready to fledge. Male cardinals often help feed and protect the fledglings until they are completely independent.
Cardinals are known for their strong pair bonds and often remain in pairs throughout the year. They take turns defending their nesting territory from intruders and other predators. Cardinals will also spend time together foraging, preening, and even bathing together as part of their courtship rituals. During the non-breeding season, cardinals will often form large flocks to forage and roost together. These flocks can contain up to 50 birds but are usually made up of 8 to 15 individuals.
Both male and female Cardinals Sing
Male Cardinals produce three or four distinct songs: a loud, sharp "chip" note; a whistle-like song, sometimes called the "cheer"; and two variations of a trill. Female Cardinals imitate their mate's chip notes but lack the more complex songs. Both males and females also make soft, cooing calls to each other during courtship displays and to keep in contact with one another through their territory. Cardinals also have a number of alarm calls they use to alert each other when danger is near. Cardinals can be quite vocal during the breeding season and will sing from perch or in flight.
Cardinals are also known to be quite territorial and will defend their territories from other birds, such as Blue Jays and grackles. Cardinals have even been observed attacking humans that encroach upon their territory. Cardinals may also fly into windows or car mirrors if they mistake their reflection for a rival bird.
Males sing louder and chirp more frequently
They also display colorful feathers to attract female mates. Female birds select their mate based on the size and color of the male's feathers, as well as the quality and volume of his song.
The arrival of spring triggers mating season for many types of birds. During this time, male birds become more vocal and engage in vigorous courtship displays to attract a female mate. Depending on the species, male birds might perform elaborate dances, show off their colorful feathers, or sing loud and complex songs.
Many types of birds also participate in "pair bonding" rituals to strengthen the bond between mates. Some courtship displays involve exchanging gifts such as berries or insects, while others involve mutual preening or feeding.
Once two birds have chosen one another as mates, they will usually remain together for the duration of the mating season. Some species may even form lifelong bonds with their chosen mates. After mating is complete, the female bird typically lays her eggs in a nest and then incubates them until they hatch. The male bird often helps out with the nesting duties by providing food and protection.
Why are male Cardinal birds red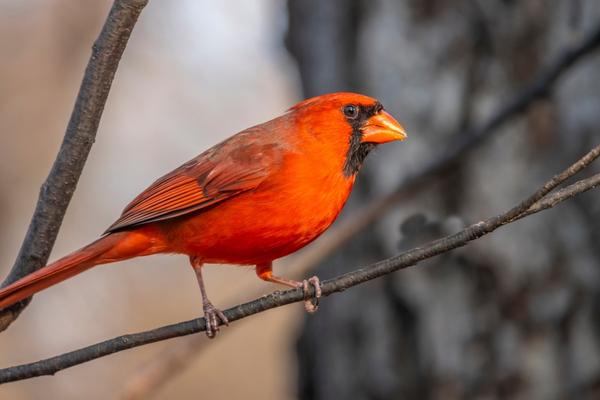 The brilliant color of male Cardinal birds is thought to be related to their mating habits. The brighter and more visible a cardinal's red plumage is, the more likely it will be able to attract a mate. Male cardinals also have a strong sense of territorialism and may use bright red feathers as a way of proclaiming ownership of a particular area. The red feathers may also serve to warn off would-be competitors and let them know they are encroaching on the established territory. Cardinals will also use their brilliant red plumage as part of aggressive behavior, such as when two males are competing for a mate. The bright red color can be seen from far away, allowing other cardinals to recognize the presence of a rival. Lastly, a male cardinal's red coloration may also be inherited from its parents, as it is passed down genetically from generation to generation.
Regardless of the reason, one thing is certain: Male Cardinal birds are certainly bright and beautiful sights in any backyard. Their vibrant red plumage is mesmerizing, and they make a great addition to any outdoor space. So the next time you spot one of these beautiful birds in your backyard, take a moment to appreciate their unique coloring and admire their distinct beauty.
Male Cardinals are more territorial than females
They will actively chase away any intruders in their territory, including other Cardinals. Male Cardinals are also known to be more aggressive during mating season and will often battle other males for the right to mate with a female. Female Cardinals on the other hand are much less territorial and usually just attempt to distract or scare away interlopers rather than confronting them directly.
During the breeding season, male Cardinals will perform elaborate courtship displays to attract female mates. This may include singing or displaying their colorful plumage. If a female is interested, they will respond with a special call and both birds may join together in a courtship dance that involves hopping and flitting around each other. The two birds may even bow to one another in a sign of mutual respect. Once a female has accepted the male's courtship, they will typically mate and build a nest together. The female will lay 2-4 eggs which will be incubated for 11-14 days before hatching. Both parents are responsible for feeding and caring for the young chicks until they are ready to leave the nest.
Conclusion
The male cardinal is a beautiful, vibrant bird that can bring a sense of awe and wonder to any backyard. Its bright red plumage and cheerful song make it an ideal choice for birders and nature enthusiasts alike. If you're looking for an interesting addition to your garden, the male cardinal is sure to fit the bill. Not only is it pleasing to the eye, but its friendly disposition means that it can easily be tamed if you take the time to do so. Plus, male cardinals are known to mate for life, so they make a lovely addition to any family. With a little bit of effort and patience, you'll soon have your own beloved flock of male cardinals to enjoy.