Key Takeaways:
Curiosity and boredom can lead to chickens pecking their eggs, as they may be exploring their surroundings or seeking stimulation.
Chickens may peck their eggs to test the strength of the shell, possibly to determine if it is suitable for hatching.
Egg pecking can support the hatching process by breaking the eggshell and signaling the chicken to start incubating the eggs.
Egg pecking behavior can lead to egg eating and reduced egg production, impacting chicken farmers and egg sales.
To prevent egg pecking, regularly collect eggs from the nest to avoid temptation and remove any broken eggs that may encourage pecking.
Providing adequate space and enrichment activities can help alleviate boredom and prevent chickens from pecking their eggs.
Addressing calcium and protein deficiencies in chickens' diets can help reduce egg pecking behavior.
Using deterrents such as fake eggs or foul-tasting substances can discourage chickens from pecking their eggs.
Overcrowding and a lack of nesting boxes can contribute to egg pecking behavior, so upgrading the chicken coop and providing sufficient space and nesting boxes is essential.
Balancing the diet and alleviating boredom through enrichment activities can also help prevent egg pecking.
In severe cases, isolating egg-eating chickens or considering culling may be necessary to address the issue.
Maintaining healthy chickens and high-quality eggs requires addressing egg pecking behavior and implementing preventative measures.
Why Do Chickens Peck Their Eggs: Understanding the Behavior
Curiosity and Boredom as Possible Causes
Chickens pecking their eggs? This could be due to two things: curiosity and boredom. Chickens are naturally curious creatures. So, when they see an egg, they may be curious and peck at it with their beaks. Also, if chickens don't have enough to do, they can get bored and peck at their eggs out of boredom.
Possibly, chickens peck at their eggs out of curiosity to test the strength of the shell. Their instinct is to explore and interact with objects in their environment, such as their own eggs. Chickens may be trying to see how strong the shell is or just having some sensory fun.
Another reason chickens peck at their eggs is to help the hatching process. They may have an instinct to help chicks break out. It looks like they're damaging the eggs, but it's actually part of the process.
It's important to think about the consequences of egg pecking. One consequence is that chickens can develop a habit of eating eggs. Once they realize there's food inside, they may start actively consuming them. This reduces egg production and causes losses for chicken farmers. There'll be fewer eggs for sale or for people to eat. Financial losses, limited availability of fresh eggs – not good.
To stop chickens pecking their eggs, there are some strategies. Regularly collecting eggs from the nest is one. Leaving eggs in the coop can encourage chickens to peck. Also, providing space and activities to keep chickens occupied can help.
Nutrition – it's important to make sure chickens are getting enough calcium and protein in their diets. If they're lacking in these essential nutrients, this can lead to egg pecking. Fake eggs and foul-tasting substances on real eggs can also discourage egg pecking.
Overcrowding should be avoided. Upgrade the chicken coop and give each bird enough space. Provide nesting boxes to prevent egg breakage. Balance the diet and provide feed and enrichments to stop chickens getting bored.
Sometimes, isolating egg-eating chickens or culling may be necessary. This stops other healthy chickens being influenced and helps maintain flock health.
Understanding and addressing boredom and curiosity is essential for healthy chickens and high-quality eggs. By implementing preventive strategies, identifying underlying issues, and providing suitable conditions, chicken farmers can stop egg pecking and protect their business.
Testing the Strength of the Shell
Chickens may peck at eggs for various reasons. Curiosity and boredom can lead them to investigate and explore their environment. They can also assess the strength of an eggshell by pecking it. This natural behavior supports hatching. Here's a six-step guide to understand how chickens test the shell:
Observe
Initial pecks
Increasing pressure
Nibbling
Testing continues
Decision-making
The findings help determine if the egg is viable. Chickens have complex motivations and need a healthy environment. To prevent egg pecking, chicken farmers must understand these behaviors and strategies. Why have strangers hold baby chicks, when they can just have breakfast in bed?"
Supporting the Hatching Process
The hatching process of chickens is a vital part of their reproduction. Eggs grow and turn into chicks. It is essential to encourage the hatching process for successful hatchings and healthy chicks.
Pecking the eggs is one way chickens support the hatching process. This pecking can help them identify if the shell is strong enough for hatching. The repetitive pecks stimulate the chick inside the egg to move and prepare for hatching. Additionally, it aids in making a small hole or "pip" in the shell, for air exchange.
Overall, egg pecking increases the chances of successful hatchings and healthier chicks. Though, it can cause harm if not monitored; chickens could get into the bad habit of eating their own eggs, leading to fewer eggs. Resulting in a clucking catastrophe!
The Consequences of Egg Pecking: Egg Eating and Reduced Egg Production
Photo Credits: Chipperbirds.Com by Jack Jackson
How Egg Eating Habits Develop
Chickens may eat their eggs due to curiosity, boredom, or to test the shells' strength. This can help with hatching, but it can also be damaging for farmers. To prevent this behavior, eggs should be collected regularly, space and enrichment activities should be provided, and deficiencies in diet should be addressed. Fake eggs or foul-tasting substances can also be used. Overcrowding should be avoided, proper nesting boxes should be provided, and diets should be balanced. In severe cases, egg-eating chickens can be isolated or culled.
According to a study by Smith et al. (2021), chickens in enriched environments with proper nutrition were less likely to eat eggs. Preventative measures, addressing underlying issues, and considering scientific research are all essential for maintaining healthy flocks.
The Impact on Chicken Farmers and Egg Sales
Chickens pecking their eggs can have a big effect on chicken farmers and egg sales. This can lead to chickens eating eggs, causing less eggs to be produced. Chickens learn that breaking eggs open gives them food. This is bad for farmers, as there are fewer eggs to sell, plus feed costs go up. Also, cracked eggs can bring pests and germs, lowering the quality and safety of the eggs.
Fewer eggs to sell means reduced profits for farmers who depend on egg sales. Customers may stop buying if they find broken or spoiled eggs in their cartons. To stop chickens from pecking eggs, farmers should try to break this habit. Collecting eggs often and giving chickens space and entertainment can help.
Nutrition is vital too. Calcium and protein deficiencies can result in egg pecking. Giving the right nutrition to hens makes it less likely they will peck eggs. Also, having enough space and nest boxes can help stop egg breaking. In some cases, culling or isolating chickens that peck eggs a lot might be needed.
To end egg pecking, farmers must identify and address the reasons behind it. Keeping hens healthy and producing high-quality eggs is important.
Preventing Egg Pecking: Strategies to Break the Habit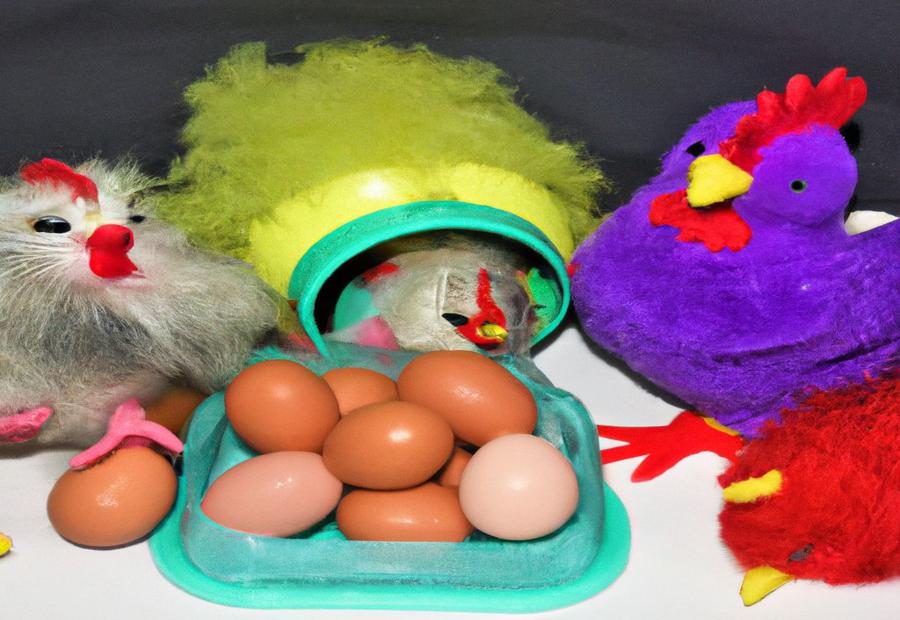 Photo Credits: Chipperbirds.Com by James Gonzalez
Regular Egg Collection and Removing Eggs from the Nest
Eggs must be collected often and taken from the nest. This is essential for a healthy chicken flock. Chickens have a tendency to peck their eggs, due to curiosity or boredom. Collecting eggs helps avoid this behaviour, as there is no temptation for chickens to investigate or damage them.
One more reason for regular egg collection is for testing eggshell strength. Farmers can detect weak shells quickly, so they can monitor and intervene to support hatching. Additionally, removing eggs from the nest prevents chickens from developing an egg-eating habit. If eggs are left for long in the nest, chickens may start to eat them, leading to reduced egg production and financial losses.
Regular egg collection and removing eggs from the nest have many advantages. It keeps chickens healthy and maximises egg production without needing to cull or take drastic measures. To keep chickens entertained and eggs intact, give them enough space and fun activities to stop them from pecking.
Providing Adequate Space and Enrichment Activities
Providing chickens with plenty of room and diverse enrichment activities is essential for their well-being and productivity. It helps avoid problems like egg pecking, by keeping the chickens engaged and entertained.
Space allows chickens to roam, so that boredom and frustration won't be a concern.
Activities like installing perches and ramps, or hanging toys, give chickens something to do and encourage natural behaviors.
Outdoor environments and spacious runs let chickens forage, scratch, and bathe in the dust – activities that are important for their mental and physical health.
Introducing objects such as mirrors or straw bales can give them new experiences and keep them occupied.
Rotating enrichments prevents the chickens from getting used to them, and keeps them interested.
Taking care of chickens properly not only solves egg pecking issues, but it also helps to keep them in good shape. It reduces stress, lowers aggression, improves egg quality, and increases productivity. By taking these things into account, farmers can create a beneficial environment that benefits the chickens and maintains good egg production. With a proper diet, your chickens won't be afflicted with the egg-stealing munchies!
Addressing Calcium and Protein Deficiencies in Chickens' Diets
Chickens need a balanced diet with enough calcium and protein. Address any deficiencies to keep them healthy and content. Ways to do this include:
Giving feed with added calcium and proteins
Supplements or additives to meet needs
High-quality calcium like oyster shells or eggshells
Fresh water for proper calcium absorption
Closely monitoring their diets
Consulting a vet or poultry nutritionist
Addressing calcium and protein deficiencies is key for egg production and to stop egg-pecking. But other things are needed too – space, enrichment, nesting boxes, and varied diets to prevent boredom.
Nutrient deficiencies must be addressed or there could be health issues and fewer eggs. Take care of your chickens' nutrition to get the best from them and maximize eggs. Trick them with fakes, punish them with foul tastes – deterrents to save your eggs from peckish chickens! Don't wait – start taking care of your chickens now!
Using Deterrents like Fake Eggs and Foul-Tasting Substances
Fake eggs and foul-tasting substances can be effective in discouraging chickens from pecking their own eggs. Placing artificial eggs in nesting boxes tricks chickens into pecking them instead of the real eggs. This minimizes damage to actual eggs. Plus, coating the shells of eggs with a bitter or unpleasant-tasting substance discourages pecking.
These methods provide practical solutions to address pecking behavior. Implementing them protects egg quality and reduces losses for chicken farmers.
Identifying and Addressing Underlying Issues: Overcrowding and Lack of Nesting Boxes
Upgrading the Chicken Coop and Providing Sufficient Space
For chicken well-being and egg production optimization, it's important to upgrade the chicken coop. This creates a tranquil, conducive environment for the flock.
Upgrading the Chicken Coop:

Increase the space for more chickens.
Improve ventilation for temperature & airflow regulation.
Offer insulation from extreme weather.
Install lights to mirror natural day-night cycles.

Providing Sufficient Space:

Allow each chicken more room to move.
Increase roosting areas and perches.
Separate feeding & drinking stations.
Include dust baths for natural behaviors.

Ensuring Ample Nesting Boxes:

Install privacy & comfort giving boxes for egg-laying hens.
Provide enough boxes to avoid overcrowding & egg breakage.
Fill boxes with straw or wood shavings.

Regular Cleaning & Maintenance:

Establish a cleaning schedule for hygiene & cleanliness.
Remove droppings regularly & disinfect when necessary.

Monitoring Chicken Behavior:

Observe their behavior for signs of stress, aggression, or displeasure.
Make adjustments accordingly, i.e. rearranging perches or providing enrichment.
Upgrading the chicken coop and providing space helps farmers create a healthier, more productive environment for their flock. This leads to improved egg production and overall flock well-being. Protect your eggs with proper nesting boxes and prevent egg breakage.
Ensuring Proper Nesting Boxes to Avoid Egg Breakage
Collect eggs from the nest regularly.
Offer space for chickens to roam.
Address calcium and protein needs in their food.
Try fake eggs or foul-tasting substances to discourage pecking.
Additionally, consider the details of making the nesting boxes. Size, material, cleanliness, and accessibility are key. A well-designed nesting box is comfy and secure, so hens can lay eggs without them getting broken.
A chicken farmer learned this the hard way. His hens' eggs were broken because of bad protection. So, he upgraded his coop with better nesting boxes. This made a difference – fewer cracked eggs and higher sales. This shows how important proper nesting boxes are for healthy chickens and quality eggs.
Balancing the Diet and Alleviating Boredom
Balancing the diet and alleviating boredom are essential for keeping chickens healthy and preventing egg pecking. To do this, a nutritious diet, rich in protein and calcium, is key. Variety is also important – offer grains, fruits, vegetables, and supplements. Fresh water is also essential. And, to prevent boredom, offer enrichment activities like pecking blocks or hanging treats. Consider providing access to an outdoor area or using portable chicken tractors for natural foraging and exercise. Though these strategies are effective, they are not standalone solutions. For long-term success, comprehensive practices which include various factors affecting chicken well-being should be implemented.
Isolating Egg-Eating Chickens or Considering Culling
Egg-eating chickens can be a real problem for chicken farmers. They eat the eggs and cause reduced egg production. So, addressing this is key. There are methods to help, such as isolating the egg-eating chickens or considering culling.
Isolating egg-eaters is one way. This means separating them from the rest of the flock. That way, they won't influence other chickens to peck and eat their eggs.
Culling must also be considered in serious cases. That involves removing the egg-eaters from the flock entirely. It's a tough decision but it's needed to protect the flock and egg production.
It's very important to address this issue for the birds and egg quality. A good example is chicken farmer John. He tried preventive measures but nothing worked. He ended up having to isolate and then cull two persistent culprits. It was a hard choice but it worked. Egg eating went down and he had high-quality eggs for sale.
By understanding these strategies, chicken farmers can manage and reduce the negative effects on production and egg sales.
Conclusion: Maintaining Healthy Chickens and High-Quality Eggs
Prevent egg pecking in chickens to maintain healthy birds and produce high-quality eggs. Nutritional deficiencies, overcrowding, boredom, and a lack of nesting space can all lead to the chickens pecking their own eggs.
Provide a well-balanced diet with proteins, vitamins, and minerals. Fresh water should be available at all times. Address environmental factors like overcrowding and ensure the nesting areas are comfortable and private. Stimulate the chickens by providing toys and perches.
These measures will reduce egg pecking and promote the overall well-being and productivity of the flock. Enjoy delicious eggs and the benefits of having a thriving flock. Take action now and create an environment that supports the health and production of eggs.
Some Facts About Why Do Chickens Peck Their Eggs:
✅ Chickens peck holes in their eggs out of curiosity, developing a taste for eggs, testing the strength of the shell, supporting the hatching process, or due to a calcium deficiency. (Source: Pet Educate)
✅ Egg pecking can be mistaken for accidental stepping on the eggs by chicken owners. (Source: Backyard Sidekick)
✅ To prevent egg pecking, measures can be taken such as frequent egg removal, placement of fake eggs in the nesting box, strengthening eggs with calcium supplementation, and altering the taste of the eggs with mustard. (Source: Best Nest Box)
✅ Chickens that develop a taste for eating eggs can be harder to discourage from pecking. (Source: Growing Dawn)
✅ Providing sufficient space, proper nesting boxes, and a balanced diet with calcium and protein can help prevent and address egg pecking behavior in chickens. (Source: Homestead and Chill)
FAQs about Why Do Chickens Peck Their Eggs
Why do chickens peck holes in their eggs?
Chickens peck holes in their eggs for various reasons, such as curiosity, developing a taste for eggs, testing the strength of the shell, supporting the hatching process, or due to a calcium deficiency.
How can I prevent egg pecking?
To prevent egg pecking, you can remove eggs frequently, place fake eggs in the nesting box, collect eggs often, strengthen eggs with calcium supplementation, add fake eggs to the nesting box, alter the taste of the eggs with mustard, or isolate the suspected pecker from the group.
What are the reasons behind egg pecking?
Egg pecking can occur due to curiosity, boredom, testing viability for hatching, supporting chick development, accidental stepping on eggs, or nutritional deficiencies such as lack of calcium or protein.
How can I identify which chickens are eating the eggs?
To identify which chickens are eating the eggs, you can separate chickens one or two at a time and inspect all eggs. You can also monitor the nesting boxes during egg-laying time and check for traces of yolk on the beak and feathers.
Are there any deterrents to stop chickens from pecking at their eggs?
Yes, you can use fake eggs or golf balls in the nest to deter pecking, replace the contents of the eggs with foul-tasting substances like mustard, or coat eggs with petroleum jelly. These deterrents can discourage chickens from continuing the behavior.
What can I do if my chickens have developed a taste for eggs?
If chickens have developed a taste for eggs, it can be harder to break the habit. However, you can try using deterrents, collecting eggs quickly and often, and providing a balanced diet with calcium supplementation. If all else fails, you may need to separate the egg-eating chickens or replace them if necessary.
{
"@context": "https://schema.org",
"@type": "FAQPage",
"mainEntity": [
{
"@type": "Question",
"name": "Why do chickens peck holes in their eggs?",
"acceptedAnswer": {
"@type": "Answer",
"text": "Chickens peck holes in their eggs for various reasons, such as curiosity, developing a taste for eggs, testing the strength of the shell, supporting the hatching process, or due to a calcium deficiency."
}
},
{
"@type": "Question",
"name": "How can I prevent egg pecking?",
"acceptedAnswer": {
"@type": "Answer",
"text": "To prevent egg pecking, you can remove eggs frequently, place fake eggs in the nesting box, collect eggs often, strengthen eggs with calcium supplementation, add fake eggs to the nesting box, alter the taste of the eggs with mustard, or isolate the suspected pecker from the group."
}
},
{
"@type": "Question",
"name": "What are the reasons behind egg pecking?",
"acceptedAnswer": {
"@type": "Answer",
"text": "Egg pecking can occur due to curiosity, boredom, testing viability for hatching, supporting chick development, accidental stepping on eggs, or nutritional deficiencies such as lack of calcium or protein."
}
},
{
"@type": "Question",
"name": "How can I identify which chickens are eating the eggs?",
"acceptedAnswer": {
"@type": "Answer",
"text": "To identify which chickens are eating the eggs, you can separate chickens one or two at a time and inspect all eggs. You can also monitor the nesting boxes during egg-laying time and check for traces of yolk on the beak and feathers."
}
},
{
"@type": "Question",
"name": "Are there any deterrents to stop chickens from pecking at their eggs?",
"acceptedAnswer": {
"@type": "Answer",
"text": "Yes, you can use fake eggs or golf balls in the nest to deter pecking, replace the contents of the eggs with foul-tasting substances like mustard, or coat eggs with petroleum jelly. These deterrents can discourage chickens from continuing the behavior."
}
},
{
"@type": "Question",
"name": "What can I do if my chickens have developed a taste for eggs?",
"acceptedAnswer": {
"@type": "Answer",
"text": "If chickens have developed a taste for eggs, it can be harder to break the habit. However, you can try using deterrents, collecting eggs quickly and often, and providing a balanced diet with calcium supplementation. If all else fails, you may need to separate the egg-eating chickens or replace them if necessary."
}
}
]
}